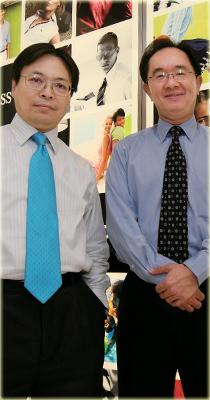 Phillips-Van Heusen Far East Limited (PVH FE) is a wholly owned subsidiary of Phillips-Van Heusen Corporation (PVH) U.S. company, which is listed in New York Stock Exchange and owns various famous brands such as Calvin Klein, Van Heusen, Arrow, Izod and Bass. Tony Wong, Executive Vice President indicates the company's deep concern about the principle of corporate social responsibility, with an emphasis on human right and environmental protection, which is the moral basis of the company.
 
As the company is mainly responsible for the communication support in the supply chain, human resource would be the most essential of all. "It is a people-oriented business, you can achieve excellent results only when you have a clean working environment. Staff is more efficient if they work in a safe and comfortable place. Besides, they will have stronger sense of belonging if the company shows its care for them."
 
Mr. Wong & Mr. Ma decided to install Central Intelligent Disinfectant Immunized System (CIDIS) when the office moved into new building. Mr. Wong appreciates the new office so much that he names it his "dream office", with simple design and fresh air, "People have been enjoying the fresh air. Some even said that it smells purely." Though he thinks it is difficult to help with the air pollution problem in Hong Kong, at least he can start making a difference in his own workplace.
 
PVH has been among the first companies to install CIDIS, and hopes to be a role model in the industry. While bringing in new experience to the staff in the company, they are also enthusiastic to share new technologies with other companies.